About Us
Happy Wok is a Chinese takeaway in Northhampton. Why don't you try our Triple Happiness or Chicken Omelette?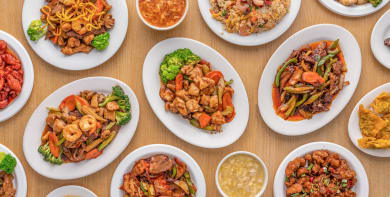 Reviews
319 reviews
Julie
"Excellent, though curry needed more seasoning"
20/02/2021
Diana
"THE MOST AMAZING FOOD IN TOWN!! So so so tasty, always order from this place and never been disappointed, 10 points to the chef, absolute legend! Yummy yummy"
17/02/2021
marie
"Lovely as always 😋"
14/02/2021
Holly
"great food, very nice duck but was disappointed that it wasn't pre cut. Other than that it was great"
14/02/2021
Menu
Mixed Hors D'Ouevres Meat Platter
Minimum for 2 people
Sesame prawn on toast (4), spare ribs (2), satay chicken on skewers (2), vegetable spring rolls (4), crispy won ton (4)
£9.00
Vegetable Spring Rolls (10)
£2.80
Crispy Chicken Curry Samosas (4)
£2.80
Crispy Beef Curry Samosas (4)
£2.80
Crispy Sweet & Sour Won Ton (8)
£4.40
Sesame Prawn on Toast (8)
£4.40
Tiger King Prawn Rolls (10)
Served with sweet & sour sauce
£5.70
Barbecue Spare Ribs A) With Barbecue Sauce
£5.70
Barbecue Spare Ribs B) With Sweet & Sour Sauce (With Pineapple)
£5.70
Barbecue Spare Ribs C) With Honey Syrup
£5.70
Barbecue Spare Ribs D) In Peking Sauce
£5.70
Barbecue Spare Ribs E) In Garlic & Chilli Sauce
£5.70
Satay Chicken on Skewers (5)
£5.70
Crispy Aromatic Duck Quarter
£9.00
Crispy Aromatic Duck Half
£16.70
Barbecue Spare Ribs Dry With Lemon
£5.70
Smoked Chicken with Salt & Chilli
£5.50
Salt & Pepper Chicken Wings
£5.50
Salt & Pepper King Prawns
£6.00
Roast Pork Szechuan Style
£5.40
Roast Pork with Chilli & Spring Onions
£5.40
Roast Pork with Ginger & Spring Onions
£5.40
Roast Pork with Green Peppers in Black Bean Sauce
£5.40
Roast Pork with Mixed Vegetables
£5.40
Roast Pork with Mushrooms
£5.40
Roast Pork Cantonese Sauce
With beansprouts topped with barbecue sauce
£5.40
Roast Pork with Cashew Nuts
£5.40
Deep Fried Pork in Garlic & Chilli Sauce
£5.40
Deep Fried Pork in OK Sauce
£5.40
Green Pepper & Black Bean Sauce
Beef with Green Peppers & Black Bean Sauce
Chicken with Green Peppers & Black Bean Sauce
Roast Pork with Green Peppers & Black Bean Sauce
Pineapple Fritters in Syrup
£3.20
Crab Meat & Sweetcorn Soup
£2.80
Hot & Sour Soup
Slight spicy
£3.20
Deluxe Set Dinner A1 For 1 Person
Sweet & sour chicken balls (6)
Chicken, beef OR roast pork curry
Egg fried rice
£9.00
Deluxe Set Dinner A2 For 1 Person
Mini vegetable spring rolls (10)
Chicken, beef OR roast pork with green peppers in black bean sauce
Egg fried rice
£10.00
Deluxe Set Dinner B For 2 Persons
Sweet & sour chicken balls (10)
Barbecue spare ribs
Chicken with mushrooms
Crispy shredded beef Peking style
Yung chow fried rice (2)
Prawn crackers
£23.00
Deluxe Set Dinner C For 3 Persons
Quarter crispy aromatic duck
Sweet & sour chicken balls (12)
Barbecue spare ribs
Beef with green peppers in black bean sauce
Chicken with cashew nuts
Yung chow fried rice (3)
Prawn crackers
£34.50
Deluxe Set Dinner D For 4 Persons
Half crispy aromatic duck
Sweet & sour chicken balls (12)
Sesame prawn toast (8)
Beef with green peppers in black bean sauce
Sweet & sour king prawns Hong Kong style
Chicken with mushrooms
Yung chow fried rice (4)
Prawn crackers
£46.00
Sausage & Chips in Barbecue Sauce
£3.50
Special Omelette
Shrimps, chicken & roast pork
£6.00
King Prawns Omelette (10)
£6.40
Roast Duck in Cantonese Sauce
With beansprouts topped with barbecue sauce
£5.80
Roast Duck in Lemon Sauce
£5.80
Roast Duck in Orange Sauce
£5.80
Roast Duck in Satay Sauce
£5.80
Roast Duck in Szechuan Sauce
£5.80
Roast Duck with Bamboo Shoots & Water Chestnuts
£5.80
Roast Duck with Beansprouts
£5.80
Roast Duck with Cashew Nuts
£5.80
Roast Duck with Chilli & Spring Onions
£5.80
Roast Duck with Ginger & Spring Onions
£5.80
Roast Duck with Green Peppers in Black Bean Sauce
£5.80
Roast Duck with Mixed Vegetables
£5.80
Roast Duck with Mushrooms
£5.80
Roast Duck with Pineapple
£5.80
Crispy Chicken Peking Style
Cooked in hot & sour sauce
£5.30
Chicken Szechuan Style in Hot Chilli Bean Sauce
£5.30
Chicken with Bamboo Shoots & Water Chestnuts
£5.30
Chicken with Cashew Nuts in Yellow Bean Sauce
£5.30
Chicken with Chilli & Spring Onions
£5.30
Chicken with Ginger & Spring Onions
£5.30
Chicken with Green Peppers in Black Bean Sauce
£5.30
Chicken with Mixed Vegetables
£5.30
Chicken with Black Pepper Sauce
£5.30
Kung Po Chicken with Cashew Nuts
£5.30
Deep Fried Chicken in Garlic & Chilli Sauce
£5.30
Deep Fried Chicken in OK Sauce
£5.30
Kung Po Beef with Cashew Nuts
£5.50
Crispy Shredded Beef Peking Style
£5.50
Deep Fried Beef in Garlic & Chilli Sauce
£5.50
Deep Fried Beef in OK Sauce
£5.50
Beef with Bamboo Shoots & Water Chestnuts
£5.50
Beef with Cashew Nuts in Yellow Bean Sauce
£5.50
Beef with Chilli & Spring Onions
£5.50
Beef with Ginger & Spring Onions
£5.50
Beef with Green Peppers in Black Bean Sauce
£5.50
Beef with Mixed Vegetables
£5.50
Beef with Black Pepper Sauce
£5.50
Vegetarian Fried Vermicelli
£5.40
Vegetarian Singapore Fried Vermicelli
£5.40
Singapore Fried Vermicelli
£5.70
Yung Chow Special Chow Mein
£5.50
Roast Duck Chow Mein A) With Green Peppers in Black Bean Sauce
£6.00
Roast Duck Chow Mein B) With Mushrooms in Black Bean Sauce
£6.00
Plain Chow Mein
With onions & beansprouts
Large
£4.00
Roast Pork Fried Vermicelli
£5.70
Beef Chow Mein A) With Green Peppers in Black Bean Sauce
£5.70
Beef Chow Mein B) With Mushrooms in Black Bean Sauce
£5.70
Chicken Chow Mein A) With Green Peppers in Black Bean Sauce
£5.70
Chicken Chow Mein B) With Mushrooms in Black Bean Sauce
£5.70
Mixed Vegetables Chow Mein
£5.00
House Special Chow Mein
King prawns, chicken, roast pork & vegetables cooked in sauce
£6.20
House Special U-Don
Choices: Black bean sauce, oyster sauce OR szechuan sauce
King prawn, chicken, roast pork & vegetables cooked in sauce
£6.70
King Prawns Chow Mein (10)
£6.00
Vegetarian Singapore Chow Mein
£5.00
King Prawns Chop Suey (10)
£5.80
Special Chop Suey
King prawns, chicken & roast pork
£5.50
Special in Thai Curry Sauce Green
£5.70
Special in Thai Curry Sauce Red
£5.70
Roast Duck in Thai Curry Sauce Green
£6.00
Roast Duck in Thai Curry Sauce Red
£6.00
Roast Pork in Thai Curry Sauce Green
£5.40
Roast Pork in Thai Curry Sauce Red
£5.40
Beef in Thai Curry Sauce Green
£5.40
Beef in Thai Curry Sauce Red
£5.40
Chicken in Thai Curry Sauce Green
£5.40
Chicken in Thai Curry Sauce Red
£5.40
Mixed Vegetables in Thai Curry Sauce Green
£5.00
Mixed Vegetables in Thai Curry Sauce Red
£5.00
King Prawns in Thai Curry Sauce (10) Green
£6.00
King Prawns in Thai Curry Sauce (10) Red
£6.00
Kung Po Tofu (With Cashew Nuts)
£5.20
Mixed Vegetables in Black Bean Sauce
£4.40
Mixed Vegetables in Cashew Nuts
£4.40
Mixed Vegetables in Oyster Sauce
£4.40
Mixed Vegetables in Sweet & Sour Sauce
£4.40
Mixed Vegetables in Szechuan Sauce
£4.40
Fried Bamboo Shoots & Water Chestnuts
£4.40
Seasonal Vegetables with Tofu
£5.20
Tofu in Garlic & Chilli Sauce
£5.20
Tofu with Green Peppers in Black Bean Sauce
£5.20
Tofu with Spice Salt & Chilli
£5.20
Szechuan Style Tofu (Bean Curd, Spicy)
£5.20
Satay Sauce (Peanut Butter)
£1.70
Fried Rice, Chips Curry Sauce in Large Tray
£3.70
Chips, Curry Suace in Large Tray
£3.00
Four Seasons
King prawns, Chinese roast pork, chicken, Chinese roast duck & vegetables with exotic Cantonese spices
£5.70
House Special in Garlic & Chilli Sauce
King prawns, chicken & pork
£5.70
House Special Kung Po
King prawns, chicken & pork with cashew nuts
£5.70
Triple Happiness
Chicken, beef, Chinese roast pork, cashew nuts & vegetables, cooked in exotic Cantonese spices in Peking sauce
£5.70
Wandering Dragon
King prawns, chicken, beef & vegetables cooked with garlic, black bean & soya sauce
£5.70
Vegetarian Singapore Fried Rice
£5.00
Roast Duck & King Prawns Fried Rice in BBQ Sauce
£6.00
Roast Duck & Roast Pork Fried Rice in BBQ Sauce
£5.80
Roast Duck Fried Rice (Dry)
£5.50
Roast Duck Fried Rice in Barbecue Sauce
£6.00
Roast Pork Fried Rice (Dry)
£5.20
Roast Pork Fried Rice in Barbecue Sauce
£5.70
House Special Fried Rice
King prawns, chicken, roast pork & mixed vegetables in sauce
£6.20
King Prawns Fried Rice (10)
£6.00
Mixed Vegetables Fried Rice
£5.00
Chicken & Pineapple Fried Rice
£5.20
Special Sweet & Sour Hong Kong Style
£5.70
Sweet & Sour Chicken Balls (10)
£5.50
Sweet & Sour Chicken Hong Kong Style
£5.50
Sweet & Sour King Prawns Balls (10)
£6.00
Sweet & Sour King Prawns Hong Kong Style (10)
£6.00
Sweet & Sour Mixed Balls (10)
£5.70
Sweet & Sour Pork Balls (10)
£5.50
Sweet & Sour Pork Hong Kong Style
£5.50
Special Foo Yung
Shrimps, chicken & roast pork
£5.50
Mixed Vegetables Foo Yung
£5.20
King Prawns Foo Yung (10)
£6.00
Fried King Prawns with Chilli & Spring Onions (10)
£6.00
Deep Fried King Prawns in Garlic & Chilli Sauce
(10)
£6.00
Deep Fried King Prawns in OK Sauce (10)
£6.00
King Prawns in Oyster Sauce (10)
£6.00
King Prawns in Satay Sauce (10)
£6.00
Kung Po King Prawns with Cashew Nuts (10)
£6.00
King Prawns with Bamboo Shoots & Water Chestnuts
(10)
£6.00
King Prawns with Cashew Nuts (10)
£6.00
King Prawns with Cashew Nuts in Yellow Bean Sauce
(10)
£6.00
King Prawns with Green Peppers in Black Bean Sauce
(10)
£6.00
King Prawns with Mixed Vegetables (10)
£6.00
King Prawns with Mushrooms (10)
£6.00
King Prawns with Black Pepper Sauce (10)
£6.00
King Prawns with Pineapple (10)
£6.00
King Prawns with Tomatoes (10)
£6.00
Stir Fried King Prawns with Ginger & Spring Onions
(10)
£6.00
Stir Fried Squids Szechuan Style
£5.70
Stir Fried Squids with Ginger & Spring Onions
£5.70
Stir Fried Squids with Green Peppers in Black Bean
Sauce
£5.70
Szechuan King Prawns (10)
£6.00
House Special Curry
King prawns, roast pork & chicken
£6.20
Contact Us
Find Us
236 Wellingborough Road, Northhampton, NN14EJ
We deliver to
NN1, NN2, NN3, NN4