About Us
Happy Wok is a Chinese takeaway in Northhampton. Why don't you try our Triple Happiness or Chicken Omelette?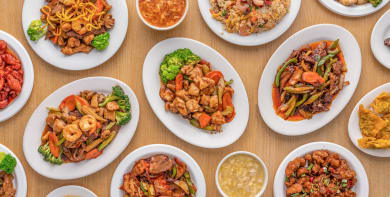 Reviews
280 reviews
Pamela
"Great food as always."
23/10/2020
Jonathan
"Good, quality, tasty food"
16/10/2020
Pauline
"Just a bit early delivery - no big deal. The food was lovely, but I think the veggies weren't cooked at all - they were very al dente indeed!"
14/10/2020
Leigh
"Flawless"
09/10/2020
Menu
Mixed Hors D'Ouevres Meat Platter
Minimum for 2 people
Sesame prawn on toast (4), spare ribs (2), satay chicken on skewers (2), vegetable spring rolls (4), crispy won ton (4)
£9.00
Vegetable Spring Rolls (10)
£2.80
Crispy Chicken Curry Samosas (4)
£2.80
Crispy Beef Curry Samosas (4)
£2.80
Crispy Sweet & Sour Won Ton (8)
£4.40
Sesame Prawn on Toast (8)
£4.40
Tiger King Prawn Rolls (10)
Served with sweet & sour sauce
£5.70
Barbecue Spare Ribs A) With Barbecue Sauce
£5.70
Barbecue Spare Ribs B) With Sweet & Sour Sauce (With Pineapple)
£5.70
Barbecue Spare Ribs C) With Honey Syrup
£5.70
Barbecue Spare Ribs D) In Peking Sauce
£5.70
Barbecue Spare Ribs E) In Garlic & Chilli Sauce
£5.70
Satay Chicken on Skewers (5)
£5.70
Crispy Aromatic Duck Quarter
£9.00
Crispy Aromatic Duck Half
£16.70
Barbecue Spare Ribs Dry With Lemon
£5.70
Smoked Chicken with Salt & Chilli
£5.50
Salt & Pepper Chicken Wings
£5.50
Salt & Pepper King Prawns
£6.00
Roast Pork Szechuan Style
£5.40
Roast Pork with Chilli & Spring Onions
£5.40
Roast Pork with Ginger & Spring Onions
£5.40
Roast Pork with Green Peppers in Black Bean Sauce
£5.40
Roast Pork with Mixed Vegetables
£5.40
Roast Pork with Mushrooms
£5.40
Roast Pork Cantonese Sauce
With beansprouts topped with barbecue sauce
£5.40
Roast Pork with Cashew Nuts
£5.40
Deep Fried Pork in Garlic & Chilli Sauce
£5.40
Deep Fried Pork in OK Sauce
£5.40
Green Pepper & Black Bean Sauce
Beef with Green Peppers & Black Bean Sauce
Chicken with Green Peppers & Black Bean Sauce
Roast Pork with Green Peppers & Black Bean Sauce
Pineapple Fritters in Syrup
£3.20
Crab Meat & Sweetcorn Soup
£2.80
Hot & Sour Soup
Slight spicy
£3.20
Deluxe Set Dinner A1 For 1 Person
Sweet & sour chicken balls (6)
Chicken, beef OR roast pork curry
Egg fried rice
£9.00
Deluxe Set Dinner A2 For 1 Person
Mini vegetable spring rolls (10)
Chicken, beef OR roast pork with green peppers in black bean sauce
Egg fried rice
£10.00
Deluxe Set Dinner B For 2 Persons
Sweet & sour chicken balls (10)
Barbecue spare ribs
Chicken with mushrooms
Crispy shredded beef Peking style
Yung chow fried rice (2)
Prawn crackers
£23.00
Deluxe Set Dinner C For 3 Persons
Quarter crispy aromatic duck
Sweet & sour chicken balls (12)
Barbecue spare ribs
Beef with green peppers in black bean sauce
Chicken with cashew nuts
Yung chow fried rice (3)
Prawn crackers
£34.50
Deluxe Set Dinner D For 4 Persons
Half crispy aromatic duck
Sweet & sour chicken balls (12)
Sesame prawn toast (8)
Beef with green peppers in black bean sauce
Sweet & sour king prawns Hong Kong style
Chicken with mushrooms
Yung chow fried rice (4)
Prawn crackers
£46.00
Sausage & Chips in Barbecue Sauce
£3.50
Special Omelette
Shrimps, chicken & roast pork
£6.00
King Prawns Omelette (10)
£6.40
Roast Duck in Cantonese Sauce
With beansprouts topped with barbecue sauce
£5.80
Roast Duck in Lemon Sauce
£5.80
Roast Duck in Orange Sauce
£5.80
Roast Duck in Satay Sauce
£5.80
Roast Duck in Szechuan Sauce
£5.80
Roast Duck with Bamboo Shoots & Water Chestnuts
£5.80
Roast Duck with Beansprouts
£5.80
Roast Duck with Cashew Nuts
£5.80
Roast Duck with Chilli & Spring Onions
£5.80
Roast Duck with Ginger & Spring Onions
£5.80
Roast Duck with Green Peppers in Black Bean Sauce
£5.80
Roast Duck with Mixed Vegetables
£5.80
Roast Duck with Mushrooms
£5.80
Roast Duck with Pineapple
£5.80
Crispy Chicken Peking Style
Cooked in hot & sour sauce
£5.30
Chicken Szechuan Style in Hot Chilli Bean Sauce
£5.30
Chicken with Bamboo Shoots & Water Chestnuts
£5.30
Chicken with Cashew Nuts in Yellow Bean Sauce
£5.30
Chicken with Chilli & Spring Onions
£5.30
Chicken with Ginger & Spring Onions
£5.30
Chicken with Green Peppers in Black Bean Sauce
£5.30
Chicken with Mixed Vegetables
£5.30
Chicken with Black Pepper Sauce
£5.30
Kung Po Chicken with Cashew Nuts
£5.30
Deep Fried Chicken in Garlic & Chilli Sauce
£5.30
Deep Fried Chicken in OK Sauce
£5.30
Kung Po Beef with Cashew Nuts
£5.50
Crispy Shredded Beef Peking Style
£5.50
Deep Fried Beef in Garlic & Chilli Sauce
£5.50
Deep Fried Beef in OK Sauce
£5.50
Beef with Bamboo Shoots & Water Chestnuts
£5.50
Beef with Cashew Nuts in Yellow Bean Sauce
£5.50
Beef with Chilli & Spring Onions
£5.50
Beef with Ginger & Spring Onions
£5.50
Beef with Green Peppers in Black Bean Sauce
£5.50
Beef with Mixed Vegetables
£5.50
Beef with Black Pepper Sauce
£5.50
Vegetarian Fried Vermicelli
£5.40
Vegetarian Singapore Fried Vermicelli
£5.40
Singapore Fried Vermicelli
£5.70
Yung Chow Special Chow Mein
£5.50
Roast Duck Chow Mein A) With Green Peppers in Black Bean Sauce
£6.00
Roast Duck Chow Mein B) With Mushrooms in Black Bean Sauce
£6.00
Plain Chow Mein
With onions & beansprouts
Large
£4.00
Roast Pork Fried Vermicelli
£5.70
Beef Chow Mein A) With Green Peppers in Black Bean Sauce
£5.70
Beef Chow Mein B) With Mushrooms in Black Bean Sauce
£5.70
Chicken Chow Mein A) With Green Peppers in Black Bean Sauce
£5.70
Chicken Chow Mein B) With Mushrooms in Black Bean Sauce
£5.70
Mixed Vegetables Chow Mein
£5.00
House Special Chow Mein
King prawns, chicken, roast pork & vegetables cooked in sauce
£6.20
House Special U-Don
Choices: Black bean sauce, oyster sauce OR szechuan sauce
King prawn, chicken, roast pork & vegetables cooked in sauce
£6.70
King Prawns Chow Mein (10)
£6.00
Vegetarian Singapore Chow Mein
£5.00
King Prawns Chop Suey (10)
£5.80
Special Chop Suey
King prawns, chicken & roast pork
£5.50
Special in Thai Curry Sauce Green
£5.70
Special in Thai Curry Sauce Red
£5.70
Roast Duck in Thai Curry Sauce Green
£6.00
Roast Duck in Thai Curry Sauce Red
£6.00
Roast Pork in Thai Curry Sauce Green
£5.40
Roast Pork in Thai Curry Sauce Red
£5.40
Beef in Thai Curry Sauce Green
£5.40
Beef in Thai Curry Sauce Red
£5.40
Chicken in Thai Curry Sauce Green
£5.40
Chicken in Thai Curry Sauce Red
£5.40
Mixed Vegetables in Thai Curry Sauce Green
£5.00
Mixed Vegetables in Thai Curry Sauce Red
£5.00
King Prawns in Thai Curry Sauce (10) Green
£6.00
King Prawns in Thai Curry Sauce (10) Red
£6.00
Kung Po Tofu (With Cashew Nuts)
£5.20
Mixed Vegetables in Black Bean Sauce
£4.40
Mixed Vegetables in Cashew Nuts
£4.40
Mixed Vegetables in Oyster Sauce
£4.40
Mixed Vegetables in Sweet & Sour Sauce
£4.40
Mixed Vegetables in Szechuan Sauce
£4.40
Fried Bamboo Shoots & Water Chestnuts
£4.40
Seasonal Vegetables with Tofu
£5.20
Tofu in Garlic & Chilli Sauce
£5.20
Tofu with Green Peppers in Black Bean Sauce
£5.20
Tofu with Spice Salt & Chilli
£5.20
Szechuan Style Tofu (Bean Curd, Spicy)
£5.20
Satay Sauce (Peanut Butter)
£1.70
Fried Rice, Chips Curry Sauce in Large Tray
£3.70
Chips, Curry Suace in Large Tray
£3.00
Four Seasons
King prawns, Chinese roast pork, chicken, Chinese roast duck & vegetables with exotic Cantonese spices
£5.70
House Special in Garlic & Chilli Sauce
King prawns, chicken & pork
£5.70
House Special Kung Po
King prawns, chicken & pork with cashew nuts
£5.70
Triple Happiness
Chicken, beef, Chinese roast pork, cashew nuts & vegetables, cooked in exotic Cantonese spices in Peking sauce
£5.70
Wandering Dragon
King prawns, chicken, beef & vegetables cooked with garlic, black bean & soya sauce
£5.70
Vegetarian Singapore Fried Rice
£5.00
Roast Duck & King Prawns Fried Rice in BBQ Sauce
£6.00
Roast Duck & Roast Pork Fried Rice in BBQ Sauce
£5.80
Roast Duck Fried Rice (Dry)
£5.50
Roast Duck Fried Rice in Barbecue Sauce
£6.00
Roast Pork Fried Rice (Dry)
£5.20
Roast Pork Fried Rice in Barbecue Sauce
£5.70
House Special Fried Rice
King prawns, chicken, roast pork & mixed vegetables in sauce
£6.20
King Prawns Fried Rice (10)
£6.00
Mixed Vegetables Fried Rice
£5.00
Chicken & Pineapple Fried Rice
£5.20
Special Sweet & Sour Hong Kong Style
£5.70
Sweet & Sour Chicken Balls (10)
£5.50
Sweet & Sour Chicken Hong Kong Style
£5.50
Sweet & Sour King Prawns Balls (10)
£6.00
Sweet & Sour King Prawns Hong Kong Style (10)
£6.00
Sweet & Sour Mixed Balls (10)
£5.70
Sweet & Sour Pork Balls (10)
£5.50
Sweet & Sour Pork Hong Kong Style
£5.50
Special Foo Yung
Shrimps, chicken & roast pork
£5.50
Mixed Vegetables Foo Yung
£5.20
King Prawns Foo Yung (10)
£6.00
Fried King Prawns with Chilli & Spring Onions (10)
£6.00
Deep Fried King Prawns in Garlic & Chilli Sauce
(10)
£6.00
Deep Fried King Prawns in OK Sauce (10)
£6.00
King Prawns in Oyster Sauce (10)
£6.00
King Prawns in Satay Sauce (10)
£6.00
Kung Po King Prawns with Cashew Nuts (10)
£6.00
King Prawns with Bamboo Shoots & Water Chestnuts
(10)
£6.00
King Prawns with Cashew Nuts (10)
£6.00
King Prawns with Cashew Nuts in Yellow Bean Sauce
(10)
£6.00
King Prawns with Green Peppers in Black Bean Sauce
(10)
£6.00
King Prawns with Mixed Vegetables (10)
£6.00
King Prawns with Mushrooms (10)
£6.00
King Prawns with Black Pepper Sauce (10)
£6.00
King Prawns with Pineapple (10)
£6.00
King Prawns with Tomatoes (10)
£6.00
Stir Fried King Prawns with Ginger & Spring Onions
(10)
£6.00
Stir Fried Squids Szechuan Style
£5.70
Stir Fried Squids with Ginger & Spring Onions
£5.70
Stir Fried Squids with Green Peppers in Black Bean
Sauce
£5.70
Szechuan King Prawns (10)
£6.00
House Special Curry
King prawns, roast pork & chicken
£6.20
Contact Us
Find Us
236 Wellingborough Road, Northhampton, NN14EJ
We deliver to
NN1, NN2, NN3, NN4